Life Lesson #396


Always Check Before You Sit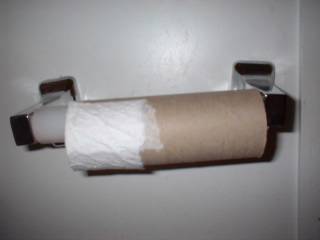 That's a rule I live by when I use a public restroom, I generally don't worry about it when I'm in the sanctity of my own bathroom. As it's MY bathroom I'm pretty confident of the paper levels as I'm the one who maintains that bathroom. I have toilet paper confidence when it comes to my bathroom. Yesterday my TP Confidence was shaken, the sanctity of my sacred bathroom was disturbed. As I reached for TP I was greeted with a sad empty roll. Then I remembered, one should ALWAYS check TP levels before sitting and commiting. That of course leads to the next lesson...
Life Lesson #397


Never Trust A Toddler To Fetch TP
Being in the above situation left me with no alternative but to send Cabbage Patch on a mission to procure TP from the upstairs bathroom. I gave her specific instructions, watched her leave and waited, waited, waited for what seemed an eternity as my butt started too go numb. She finally returned empty handed claiming "Dere's no toilet paper up dere." (which I knew was completly in accurate.) I questioned her about where she looked briefly before I realized what a pointless endevor it was and grabbed some Kleenex to take care of things (yes I know I should have just done that first, but I really thought "Go upstairs to daddy's bathroom and get some toilet paper" was an easy enough task, and since she was loitering in the bathroom as I peed, I thought I'd just get new TP and not use up all the tissue, silly me).
Live and learn.